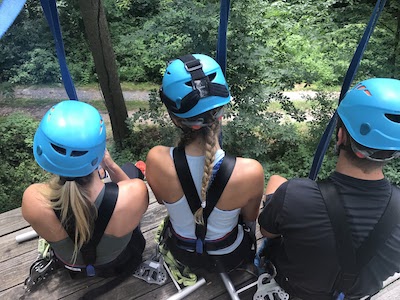 Have you ever wanted to try something new? Instead of taking that normal weekend beach vacation, try exploring the vast lands of the United States. You don't need to go far to find adventure, and it's easy to do when you have a home on wheels. If you aren't looking to go too far from comfort, our NJ hub recommends spending the weekend in beautiful, rural Pennsylvania. You'd be surprised how much there is to do out there, especially for families.
Starlight Camping Resort
Rolling through the Pennsylvania countryside is really a spectacular experience. Try stopping in Stevens, PA, where you can find a great campground at the Starlight Camping Resort. It's easy to hook up the RV, which only takes about 5 minutes. With a panoramic view, these campsites won't let you down. Remember, these RVs are state of the art, brand new. Once you are able to open up the pop-up, it will feel like you have more than enough room to move around comfortably. Every campsite has a water and electric hookup, so it's being in the wilderness without giving up things like AC and showers.This specific campground even has mini-golf for the kids. 
Refreshing Mountain Retreat and Adventure Center
It's always nice to get away for some fresh air and spend time with the family. The best part about motorhomes is that they can be taken anywhere. Refreshing Mountain Retreat and Adventure Center is a great place to wander to for a Saturday afternoon activity.There, you can spend the day ziplining from tree to tree, practicing your archery skills, and relaxing by the pool. All outdoor activities are supervised by your own private guide. Most people enjoy the Ziplining and Obstacle Course that is offered. Waken the inner daredevil by ziplining upside down over 90ft high. There's plenty to be done.
After a long day of outdoor adventure, find yourself back at the campground, cooking hot dogs and burgers over a fire pit. Don't forget to make some delicious s'mores for dessert. When the night is over, feel safe and relaxed by climbing into your RV for the night. There's nothing better than spending the night under the stars, all while feeling the cool breeze of air conditioning on your face.