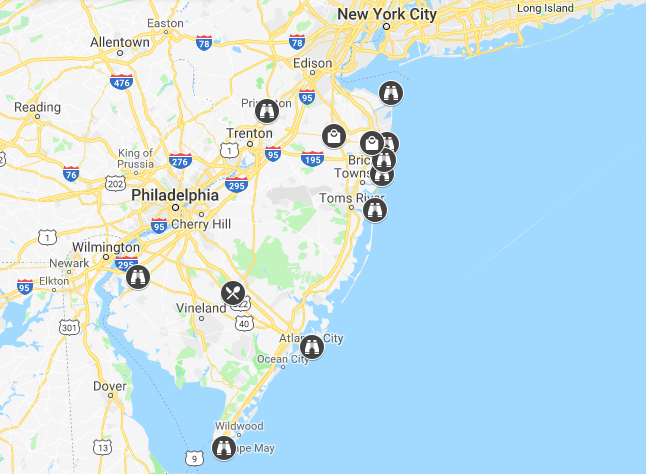 There are a lot of fun and exicting things to do in New Jersey. From white beaches to cultural sights there is something for everyone. Below you can read about the best spots in our area besides the two famous metropoles New York City and Philadelphia.
Sights
Asbury Park
If you are looking for a vibrant beach town this would be it. You can park for free in Ocean Grove and just walk over to the Asbury Park beach alongside the boardwalk. The Asbury Park boardwalk with its vibrant murals has great food, nice boutiques and one of the best live music scenes of world. For more food options you can walk over to Cookman Avenue. There you will find multiple breweries, craft coffee bars and unique restaurants.
Spring Lake
A small seaside community with really nice homes. It is usually really nice and quiet out here. You can park for free.
Jenkinson's Boardwalk
On this boardwalk you will find a wide range of activities for the whole family. You can visit the amusement park and the aquarium. Also, you will find various stores and many food and drink options.
Seaside Heights
Jersey Shore (reality serie on MTV) was first taped in Seaside Heights. There is an amusement oriented boardwalk with rides for children as well as clubs and bars. Additionally, you can check out the Jersey Shore house.
Sandy Hook
Combine a day trip to Sandy Hook with drinks or food at Proving Ground Waterfront Dining afterwards. Sandy Hook has great beaches, a lighthouse and old military buildings.
Princeton
Of course best known for its prestigious university Princeton if a fun town to visit. You can walk stroll over the campus and admire the beautiful architecture. From old buildings to even really new ones. Also, you can check out Einstein's old house.
Atlantic City
This city is famous for its casinos, entertainment and nightlife. You can see it as a small Vegas in New Jersey. In most hotels you can find fun comedy clubs, which are really affordable.
Cape May
The whole city of Cape May is listed as a National Historic District with nearly 600 Victorian buildings. Cape May has great beaches as well.
Cowtown Rodeo
Who doesn't love rodeos? You should go here if you would like to experience something truly American. CownTown Rodeo runs every Saturday at 7:30pm in the summer and tickets cost $25 (age 13 and over), $10 (3-12) and under 3 years are free. This place is BYOB (Bring Your Own Booze). You will watch bull riding (really intense), steer wrestling, saddle bronc riding, tie down roping, barrel racing and more. To make this experience truly American make time beforehand to visit the best BBQ restaurant of South Jersey: Henri's Hotts. They serve authentic smoked Texas Style BBQ along (ribs, brisket, grilled chicken) with many delicious side dishes like cole slaw, corn bread and potato salad.
Shopping
Freehold Raceway Mall
You will find all the typical American stores in this mall. From the Apple Store, Victoria Secret, Bath and Bodyworks, Sephora to all the major department stores.
Jersey Shore Premium Outlets
This is the best outlet mall in the neighborhood. From your favorite sports brand to designer brands as Tommy Hilfiger, Ralph Lauren and Calvin Klein. Also, they have a Michael Kors store for your favorite bags at a decent price.