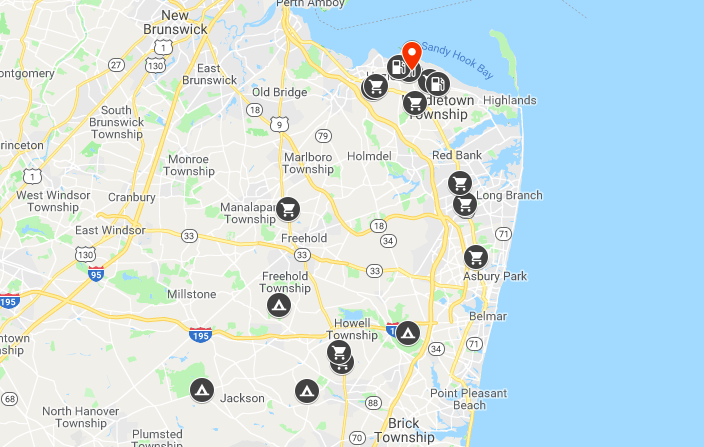 If you need any suggestions on stocking up your RV when you leave our HQ there are a multiple supermarkets nearby each unique in its own way. Need a campground for the night? We have 4 suggestions for you. From state parks to regular campgrounds with all the amenities you will need. On the day of return we suggested a few gas stations to make this process easy and quick before you return your vehicle at Adventures on Wheels.
Supermarkets
Super Foodtown of Port Monmouth
This is the closest supermarket to our location. A local grocery store with a decent variety of products and a liquor store as well.
Whole Foods Market
Your go to place if you are looking for the finest naturel and organic foods. Always try to buy their freshly made guacamole with tortilla chips. It almost taste like you made it yourself. Keep in mind; they call this place whole pay check for a reason.
Trader Joe's
Defined as a 'neighbourhood grocery store' with the focus on value and quality. It is a very unique supermarket. You can recognize the staff at their Hawaii shirts and you will experience an extremely friendly atmosphere. They have really convenient freezer meals, which actually taste good and that you can just heat up in a pan in minutes. Highly rated: the Chicken Tikka Masala and the Mandarin Orange Chicken.
Lidl
If you are looking for a European grocery store this is a good bet. A lot of fresh produce and other products to create a great meal for your family.
Wegmans
The best freshly baked European bread you can find in a Jersey supermarket (the 7-grain bread is delicious). Additionally, there is a great assortment of imported and domestic cheeses. If you would like to shop at an upscale supermarket, go here. Also, they have a great variety of craft beers and $6 wines (if you sign up for their loyalty program, which is free).
Aldi
The Aldi is great for fresh (and organic) fruits and vegetables at an affordable price. Comparable to Lidl.
Shoprite
Shoprite is the runner-up in terms of bread. You will find a lot of different options at this supermarket. This supermarket along with Wegmans would be your typical large American supermarket where you can spend hours of your time.
Campgrounds
Liberty Harbor RV Park 
We would recommend this RV park if you are looking to visit manhattan. It looks more like a parking lot (all paved), however, the location is very convenient. You can either take either the ferry or the PATH train to New York City. The rate is $110 per night plus tax for a site with water and electric. There is a dumping station on site as well.
Allaire State Park 
This state park is closest to the Jersey Shore and has 45 campsites with fire rings and picnic tables. Rates are from $25 per night. You can enjoy the many trails in the park. Please be aware that this campground is close to major roads so you will hear this while you are in the woods.
Turkey Swamp 
This RV park is completely in the woods and open from April 15 to November 15. All campsites are pull through with water and electric. There are showers and laundry on site. It is definitely a nature park. There are trials where you can take a walk and there is a lake where you can rent kayaks and rowboats. At night it is completely pitch black and the only thing you will hear are crickets. So please bring a flashlight! Park rangers check regularly if everything is going well so you will feel absolutely safe. Alcohol is unfortunately prohibited at this campground. Campsites cost $40 a night.
Indian Rock RV Park & Campground
This campground sits on around 30 acres in Jackson and all campsites are shaded with trees. The sites are from $60 per night. Great for children as there is a pool and playground available on site. Most sites have water and electric and some have sewer too. You can fill up propane here as well.
Tip Tam Camping Resort
Tip Tam Camping Resort is a bit outdated compared to the Indian Rock RV Park & Campground. However, its location is better as its close to Howell where you can find supermarkets and restaurants. This campground has a playground for children and a pool during the summer months. A small store as well as propane is available at the campground. You can choose either a full hook-up site or a site with water and electric. Prices start at $49 a night.
Gas stations
Jersey Gas
The closest spot to our office where you can fill up both propane and gas in one go.
Exxon Keansburg
Just 1 minute away from our office on route 36. Ideal if you already have filled up propane at the campground.
Exxon Belford
If you are coming from the opposite direction this gas station would be a good option.